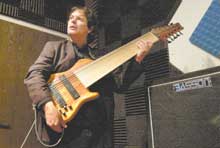 LAURA EMBRY / Union-Tribune
When he's not making music for radio, TV or the movies, Garry Goodman of Vista is busy experimenting with new musical sounds and instruments such as this one-of-a-kind, 11-string Adler bass guitar.

VISTA – Garry Goodman's music is used in radio commercials, television and films. But it is the way he plays his bass guitar that makes heads turn.
"People come up to me and say, 'What's that? You have more strings than I do,'" Goodman said.
The veteran bass player has been adding strings to his instrument since he started playing a seven-string bass guitar in the mid-1980s.
Now he is playing a one-of-a-kind, 11-string Adler bass guitar.
"I play it like a piano," Goodman said. "I can play Scott Joplin's ragtime with a range like on a grand piano."
The instrument is unique. But so is the technique Goodman uses, one he has been working on for more than 30 years. He calls it percussive harmonics.
"I can play bass and a chord accompaniment with one hand and a melody with the other," Goodman said.
"Garry has always been doing stuff others guys weren't doing," said local bassist Joe McGowan, who took lessons from Goodman during the early 1980s in Los Angeles.
Goodman has been composing music and experimenting with sounds since he was a kid. He knew he wanted to go into music early on, and started a band as a teenager.
He was barely 13 and was getting paid to play rock 'n' roll.
"I liked making music because I saw everyone having fun and dancing. I realized it would mean a lot of training, but I enjoyed the hard work," Goodman said.
In his teens, he played bass on television shows such as "McCloud" and "Magnum, P.I." He also played the bagpipes in the movie "Day of the Locusts."
When he was 16, Goodman joined the American Federation of Musicians.
He went on to play traditional bass and worked with The Fifth Dimension, Jimmy Rogers, Danny Ganz and Thelma Houston.
He wrote, sang and recorded the song "Bad Trip" for the movie "Camp Utopia." Currently, he is playing bass in "Angry Girl Gang" off Broadway in New York.
He is working on the voice production for a CD to be released by local musician Mikole Kaar and his wife, Carrie Landsgaard.
"He is a diamond in music production," Kaar said. "He has those kinds of ears that guys develop in the music business in L.A."
For nine years, Goodman ran a production company in Beverly Hills, where he composed and produced music for radio and television commercials. He started his company, Split Second Music, in Hawaii about a decade before that, and now works out of Vista.
Aside from performing, producing and composing, Goodman keeps experimenting with the range on his guitar.
He is working on adding yet another string.
Do you have a story idea for Vista? Contact Linda McIntosh at (760) 476-8214 or linda.mcintosh@uniontrib.com. For special events, please alert us at least four weeks in advance. We work ahead!